True North Guide Service

Maine Striped Bass and Bluefish Angling. Saltwater fishing Charters on the Sheepscot and Kennebec Rivers.
WHAT TO BRING


Weather!!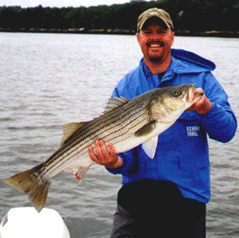 Please keep in mind that that while on the ocean the suns rays will reflect off the water increasing the need for sun block and sunglasses. As the saying in Maine goes, "If you don't like the weather just wait a few minutes", meaning that the weather in Maine can often be difficult to predict. Be prepared. Rain gear and warm jackets are always a good idea to have on hand. A camera may also be a good idea, (just be careful not to lose it overboard). Lunch and plenty of beverages are always important on both half day and full day charters. For those who are prone to seasickness be sure to take proper medication prior to boarding. Capt. Morris will allow beer or wine on board. However, hard liquor does not make for an enjoyable fishing trip.
Home The Experience Ports Passengers Family Trips
Rates What To Bring Contact Info Photo Album